Carrier Certified Commercial Heating & Cooling Contractor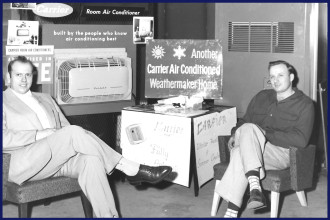 Thank you for your interest in DeLattre Corp.. Our full-service commercial heating and cooling company offers business customers in the Pittsburgh area more than 60 years of HVAC experience. We are a Carrier Certified contractor with a team of trained technicians who are committed to delivering excellent customer service and HVAC expertise that is unmatched.
Dedication to cutting-edge HVAC service
Fair, budget-friendly pricing
Installing premium Carrier® products
Prompt, courteous communication
Our Company History
DeLattre Corp. has a long and proud history in the commercial heating and cooling field. The company was founded by Eugene J. DeLattre in 1958. The current owner and president, Martin R. DeLattre, has over 35 years of experience in the HVAC business and has been president of DeLattre Corp. since 1988.
Today, we're proud to say we have served tens of thousands of customers throughout the Pittsburgh area. And all the while, we have remained dedicated to the family values we built this company on. Our legacy of honest, top-quality service continues to shine.
The DeLattre Advantage
Our professional technicians are bonded, insured and city/traffic compliant, and insist upon total customer satisfaction at every project phase. Additionally, our in-house design and construction services are unique to our company. We offer the ability to create complete custom ductwork and HVAC systems of all sizes. No project is too big or too small.
DeLattre Corp. has been in the commercial and industrial HVAC business for more than six decades. When you call us for your commercial heating and cooling needs, you can have peace of mind knowing your business is in the most experienced hands.
Contact Us for More Information
The DeLattre Corp. team wants to give you an excellent experience when it comes to commercial heating and cooling. Call us today at (724) 258-8571 or fill out the online form with any questions and to request a free estimate. We'll be delighted to hear from you.