Certified Commercial Air Conditioning Services
We offer best-in-class commercial air conditioning service like no other HVAC company in the area. DeLattre Corp., is a Carrier Certified provider of commercial heating and cooling systems. We specialize in HVAC design/build, cooling repairs and HVAC system maintenance.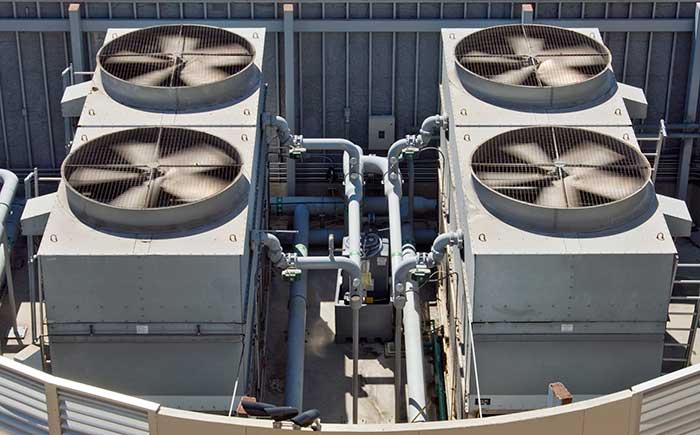 Our team has a proven track record of:
Arriving to the job site on time, every time.
Performing maintenance tasks in a timely manner.
Delivering outstanding AC maintenance and repairs.
Providing courteous, friendly service to our customers.
We also use state-of-the-art technology to design and build our own air ducts, customized to your needs. When you need a commercial and industrial air conditioning specialist, count on DeLattre Corp..
Commercial Air Conditioning Installation
Offering exceptional client service and cost-effective HVAC solutions, the DeLattre Corp. team knows how to preserve the comfort and safety of your facility all year long. Installation and service is available for the following high-efficiency system types:
Split-system air conditioners
Ductless A/C
Package unit cooling systems
Commercial rooftop HVAC units
Cooling Towers
Chillers
Commercial Air Conditioning Maintenance Plans
Sign up for a routine AC maintenance plan to keep your AC running at peak levels and catch minor issues before they become major problems. Our highly skilled technicians have the experience and knowledge to repair and maintain all makes and models of commercial air conditioning systems.
During your routine maintenance check-up, we'll perform a thorough inspection and tune-up of your AC unit, including replacing dirty filters, adding refrigerant and fixing any issues we find. You will also be given a detailed report when we are finished.
Learn more about the benefits of consistent maintenance and Service Agreements.
Contact Us for a Customized Estimate
The DeLattre Corp. team of commercial AC technicians can help you maintain your company's air conditioning with the professional attention to detail you want. Call us today at (724) 258-8571 or fill out the online form to request a customized estimate, and we'll be sure to respond shortly.