Commercial HVAC Repairs & Maintenance
Our team of skilled technicians is available 24/7 for all your emergency HVAC repair needs. We pride ourselves in our fast response time and dedication to solving all of your HVAC equipment challenges, no matter the make or model. If you are a building owner or manager who wants fast and reliable service, you can count on DeLattre Corp..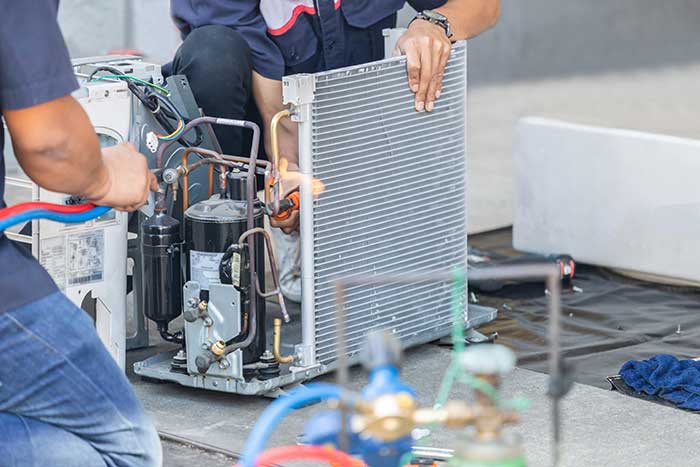 In addition to offering HVAC system upgrades, our commercial HVAC service provides HVAC troubleshooting and planned maintenance programs offered for a variety of HVAC equipment, including chillers, air handlers, cooling towers, fan coils, pumps, boilers and exhaust fans.
Proper HVAC System Maintenance
Protect your facility's budget by properly maintaining your HVAC system. To protect your commercial cooling investment, DeLattre Corp. offers regular system inspections, HVAC repairs, cleaning and safety checks. Benefits of regular HVAC maintenance include:
Energy Savings: Inefficient HVAC systems drain cash flow without improving indoor climate. With our system inspections, you'll enjoy high-performance cooling while reducing energy use and lowering utility bills.
Preventative Care: In addition to maximizing the energy efficiency of your facility's HVAC system, our maintenance plans allow technicians to pinpoint problems before they turn into costly repairs.
Comprehensive Service: To ensure efficient, reliable operation of your facility's cooling equipment, our Carrier Certified technicians perform full-scale system testing, belt checks, mechanical inspections, equipment cleaning and system lubrication.
Adhering to manufacturer recommendations, we use industry-best practices to maintain the integrity and safety of your A/C equipment.
Our Routine Maintenance Plans
Our maintenance and repair technicians perform the following system services during maintenance checks:
System testing & safety check
Filter changes
Mechanical inspection
Cleaning
Lubrication
Priority service
Contact Us for More Information
Let us save you money, ensure the comfort of your guests and employees, and extend the life of your commercial HVAC system. With our expert HVAC repair and maintenance solutions, DeLattre Corp. will keep your equipment operating safely and efficiently year-round, so you can rest easy. Call us today at (724) 258-8571 or fill out the online form and we'll respond shortly!