Commercial HVAC Construction
When you need a commercial HVAC installation contractor, rely on DeLattre Corp.. We have the skills and experience to engineer and install even the largest commercial and industrial projects.
We also specialize in installing the latest technologies. Whether you're looking at indoor air quality (IAQ) solutions or a completely customized system, we're the company to call for the job.
State-of-the-Art Sheet Metal Shop
Our fully integrated sheet metal shop gives us the ability to produce custom ductwork of any size or gauge. We use a state-of-the art Vicon plasma cutter to build our own in-house ductwork, customized to fit your building and needs specifically. (Visit our photo gallery to see the plasma cutter in action!)
Our sheet metal installers are trained mechanics with the skills to perform a neat and professional job. We understand the importance of keeping everyone safe and secure on the job site, so you can trust us to maintain the work standards you're looking for in an HVAC contractor.
Safety is our top priority. Our company stays up-to-date on the latest best practices for commercial HVAC installation labor and project management, and we're here to pass that expertise onto you.
Commercial AC & Heating Design Services
We proudly provide in-house design services and manufacturing of custom ductwork here at DeLattre Corp.. Our company is a one-stop, do-it-all shop for all of your commercial AC and heating installation and design needs.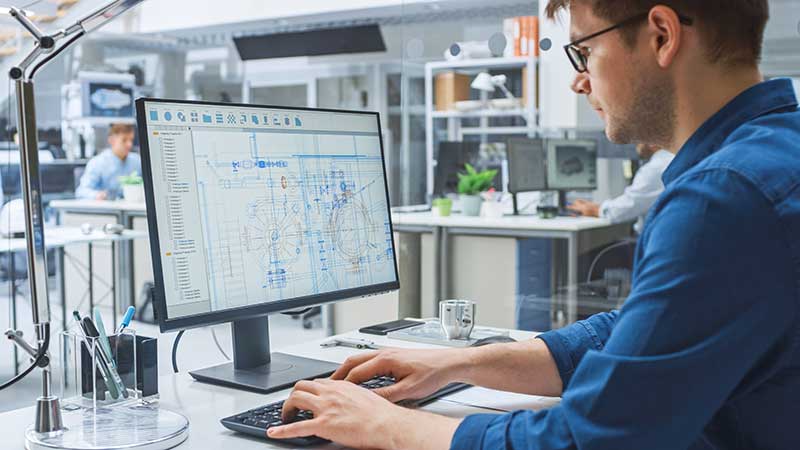 With the advancement of technology, DeLattre Corp. has stayed current on the latest techniques in HVAC and ductwork design. We provide state-of-the-art computerized estimating software (CAD) drafting for commercial and industrial customers, ensuring you receive a fair price for top-quality work.
Why Choose Us
Design Build Value Engineered Solutions
Our in-house HVAC design team has over 60 years of combined experience. Each person on our team has experience with a multitude of different design projects for healthcare, process packing plants, institutional facilities, campuses, general office buildings and other commercial and industrial properties.
We have the training and expertise to handle any building, so if your business needs top-quality commercial AC and heating installation, rely on the DeLattre team.
In-House Shop for Custom Ductwork Design & Construction
Our in-house design shop gives us the ability to provide custom ductwork for your building, a feature unique to DeLattre Corp.. We use a state-of-the-art Vicon plasma cutter to shape each piece of sheet metal. Check it out in our photo gallery!
Code Compliance
Over the years, the Labor and Industry codes have become stricter. In response, DeLattre Corp. has adopted new codes and more stringent standards, allowing us to provide engineered stamped drawings and updated code manuals when it comes to commercial AC and heating installation.
Our team of experts is ready to give you a system that works and meets even the strictest of Labor and Industry requirements and codes. We do it right, so you only need to do it once!
Contact Us for a Customized Design & Installation Estimate
DeLattre Corp. serves commercial and industrial companies of all types. With more than 60 years of experience in the field, we've completed hundreds of custom HVAC installation projects. When you need a commercial HVAC installation company you can trust with your business, look no further than DeLattre Corp.. Reach out to us today for a free consultation and estimate at (724) 258-8571, or fill out the online form and a member of our team will get back to you shortly.